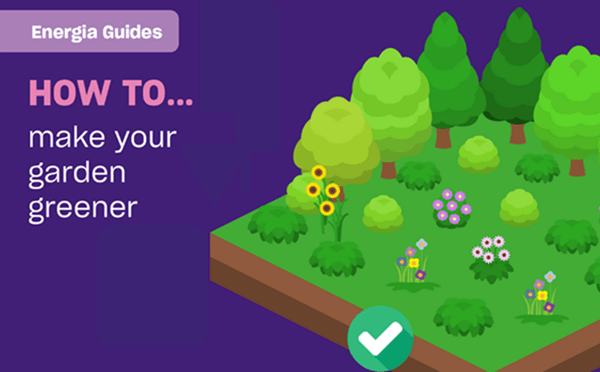 OCTOBER 26 2023
Green spaces are great for the environment! Here's how you can improve your own garden and to promote sustainability easily in your own home and power a more sustainable future:
At Energia, join us as we work with Greener Possibilities to ensure we battle against climate change to ensure a greener world. We believe in this action and work in volunteering sessions at various places from Blanchardstown Community Garden and GrowNI providing us with the opportunity to get involved with growing food, learning new things about garden keeping and connecting with the community.





Follow these 5 easy steps to create a greener more sustainable garden!



1. Allow wildflowers to grow, they're great for pollination.
Plants like dandelions, clovers, daises and buttercups for your home gardening are an excellent source of nectar and pollen for pollinators. Bees will feed off these flowers and your garden will transform into a greener garden.
2. Avoid using plastic products and decorations.
Since plastic is very harmful for the environment because of toxic additives and waste, avoid plastic water bottles, straws and plastic bags. Instead switch to biodegradable alternatives like pots in the garden which will avoid plastic and prevent harm to wildlife.
3. Make your own compost by recycling organic waste.
Recycling organic waste such as food waste can be turned into usable products, like compost for your garden. Create an organic waste bin where your waste can be leftover food such as fruit and vegetables or apple cores.
4. Collect rainwater and use it to water plants.
Did you know in Ireland, the daily domestic consumption of water per capita is approximately 80 litres?
Together let's try to help Ireland reduce their water consumption by create a rainwater storage tank to water your plants. While water is essential in order to grow plants, but it is a valuable and limited resource. By harvesting rainwater from roofs of homes, garages and greenhouses and this rainwater can be used on plants rather established plants due to the risk of fungal plant disease. This is a very cost-effective way to keep your bills down.
5. Choose solar-powered garden lighting.
Solar power garden lighting can reduce the usage of harmful fossil fuels. The outdoor solar lights store sunlight throughout the day as energy and can be used during the evening as lights in the garden. This would be instead of powering your garden lights throughout your house, lowering your electricity bills as well as being more environmentally friendly.
Make sure you check out this blog post to find out more about our Greener Possibilities Initiative: