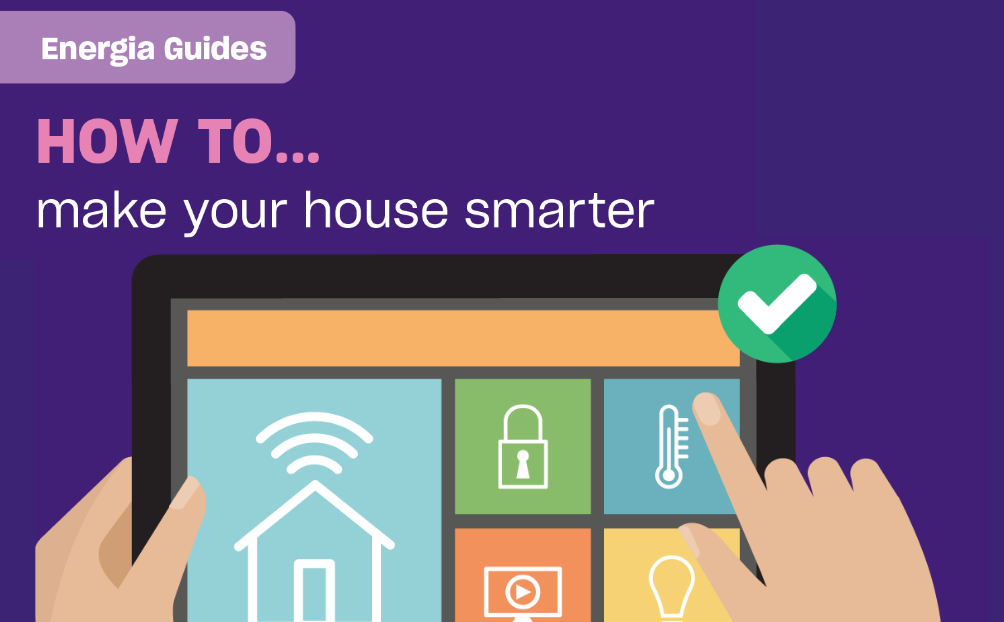 NOVEMBER 06 2023
There are many ways to make your house smarter and save on energy. It is the right time to take action to improve your safety, security, and convenience in your home today.
Technology is becoming the number one aspect of all our lives at the moment. From the submergence of electric cars, smart lighting, remote power management, and eco appliances.

Follow these steps to find out how to make your house smarter:
1. Install smart thermostats.





The Energia Smart Thermostat may be used with Netatmo by Stark, an app to remotely heat your house, after it is connected to your phone or tablet. Your present thermostat is replaced by the Netatmo smart app, which gives you the option to set up a 7-day schedule for when you want your heating on or off. This avoids wasting energy and prevents unnecessary costs. Receive installation from Energia's dependable partners available through purchasing

here ⬅
2. Control the sun with smart shades.



Do you want to keep your home comfortable and reduce energy costs? Smart blinds are the way to go, with the numerous benefits they offer your home. From the convenience of allowing voice control and wireless remote control to improving the energy efficiency of your home to creating a sense of privacy, these blinds are the way to go.

Smart blinds are automated window coverings that can be controlled via an app or voice control. Connect to Wi-Fi or Bluetooth with your smart devices. When activated, the motors can lower and raise the blinds.



3. Control artificial light with dimmers and smart lightbulbs.



Upgrade to hands-free control of your lights with voice commands through Amazon Alexa, Apple HomeKit, or Google Assistant. This is the accessory that is needed in your home to make it a successful smart home. Dimmer switches and smart bulbs don't only allow longer life spans and reduced carbon emissions; these lights also last longer than conventional bulbs and have a positive impact on the environment.

The easy-to-use light customisation and settings can change the colour and mood in the room easily. Lower your energy use and cost savings today by opting to control your lights smartly.

4. Optimise energy consumption with smart plugs.

Creating a smart home plus saving energy Yes, they do! Simply connect your smart plug to an appliance, e.g. a lamp or your coffee machine, and then you can remotely use your smartphone to switch these appliances on and off. Who doesn't love waking up to a fresh cup of coffee ready for them?

If you love saving energy and creating a safe and convenient home, then smart plugs are for you!



5. Manage every smart device in your home with a smart hub.



Build your smart hub with the Energia smart home store, where once you are an Energia customer, you can indulge in monthly awards and exclusive discounts on Energia's smart home store.



Find out more about our exciting smart home combo bundles:

Energia Smart Home Store: Smart Bundles 💡 Opt for our Personal Home Assistant Bundle with Google Nest Hub, Kasa Smart Lightbulbs, and Smart Wi-Fi Plug for only €160.00– saving €20.00.

Smart hubs allow you to create a pinpoint for unifying your connected gadgets in one app. Once your lights, thermostat, and doorbell controls are all in one place, it reduces the mundane tasks that we know you don't want to do.